We own extensive know-how in the area of commercializing your ideas into a prosperous company. We are prepared to offer you our services in order to organize your ideas and thoughts and evaluate the same in terms of consumer needs and international impact, to establish a start-up or spin-off company through a joint team effort and further develop the same so that you can achieve your goal of owning a successful business.
EXPERTISE, CONSULTATIONS, MENTORING AND COACHING
Creating a successful and prosperous company is nothing new for us. Our managerial team altogether has more than 60 years of experience in establishing and managing companies, their restructuring and sale to investors. We deal with mentoring and coaching start-ups, small and medium-sized companies and large corporations. We can take advantage of a wide network of international contacts in many areas required for running a business. We know how to accelerate your company's growth.
TECHNOLOGY, PATENTS AND PRODUCTS
We have a tank of promising ideas, in-process projects and prototype products in the area of biotechnology. We cooperate with universities, research institutions and investors that provide for the funding and transformation of the ideas into a successful business.
INNOVATIVE PROJECT FINANCING
We have extensive experience in the area of securing private capital, as well as public sources for research and development support. Our international possibilities will help finance the transformation of your ideas and technology into a successful business.
SMALL AND MEDIUM-SIZED COMPANIES (SMEs) AND CORPORATIONS
Part of the premises within Innocrystal is allocated for SMEs or a corporation, ideally operating a business in the area of biotechnology, seeking access to an innovative environment, to start-up/spin-off companies, together with research and development talent, and the mediation of public finance support for research and development. We offer attractive premises in an original modern design, an inspiring innovative environment, a flexible interior layout and a competitive rent.
InnoCrystal is an ideal place for your start-up. We offer the experience of our experts in commercializing your ideas and projects, managerial skills, connections and contacts to universities, research institutions and international companies, together with access to and assistance with securing private and public sources of financing – all the above in a strategic location. You pay nothing for our services, and definitely not in advance; we offer you working together as one team in exchange for a share in your future business.
For investors, we offer opportunities to invest in entrepreneurial talents in the area of natural sciences, biotechnology and related sciences under one roof. We have extensive experience in the early recognizing and managing of innovative projects under very competitive conditions. Our long-term vision is to create a biotech investment fund for the Central and Eastern European region.
For potential buyers, primarily from the corporate area, we offer access to intellectual property, technology, services, prototypes and our pipeline and/or start-ups situated in Innocrystal.
Assistance for companies

Do you wish to establish a branch of your company? If so, we will gladly help you expand your company using our international contacts and experience.
Our services may include:
Exclusive office premises in a modern and versatile facility in the vicinity of an international airport and the city centre
Legal services
Accounting and administrative support
Registration services
Accounting and administrative support
Establishing business relationships with professionals and organizations which are able to help you
Business plan preparation and implementation
Connections to the clients
Protection of intellectual property
Various forms of financing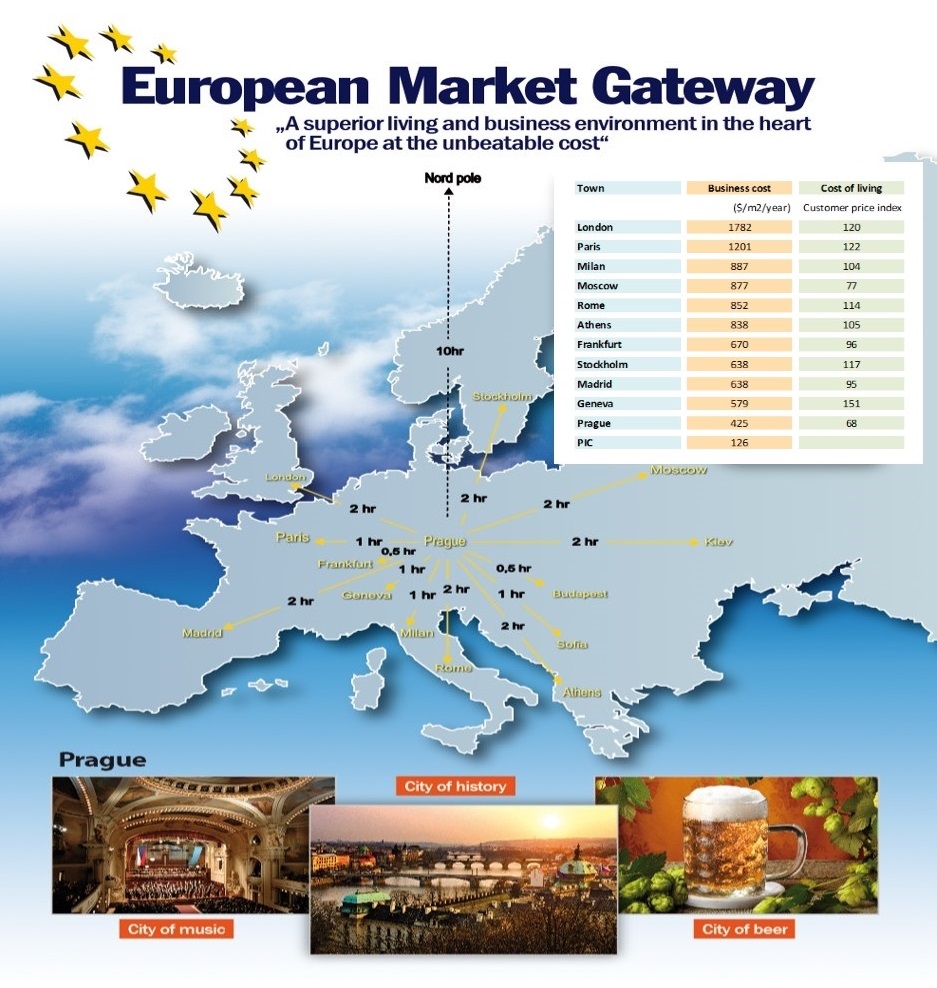 We are looking forward to cooperating with you
We will be happy to welcome you in our Prague Innovation Centre

InnoCrystal s.r.o.
Inovační 122
252 41 Zlatníky-Hodkovice
Czech Republic

InnoCrystal s.r.o.
Inovační 122
252 41 Zlatníky-Hodkovice
Czech Republic