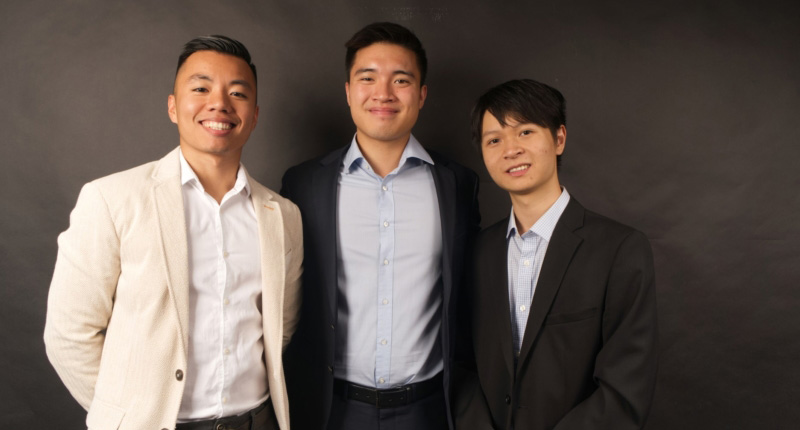 NULISEC another great company based at InnoCrystal
In the Vietnamese marketplace Sapa in Prague, it creates competition for Alibaba.
 

Czechs are building an online marketplace for a European manufacturer.
Ali Baba is not only a fairytale character, but also the name of a successful Chinese company that operates a world-famous platform where manufacturers meet wholesalers to close their own stores. 
However, Nulisec, an ordering system for fast-moving goods, has ambitions to become something similar on the old continent, and its story began to be written in Sapa, Prague.
Behind Nulisec are three Czech young men from domestic Vietnamese communities who, thanks to the business activity of their parents, begin to gain their first business experience when they were children. 
Sonny Nguyen, Lukáš Pham and Leo Do are three friends whose parents come from Vietnam and who have known each other since their youth. Through their journeys, they parted ways when they went to study at universities, moreover, each to a different country in the world, and eventually reunited.
With the experience gained from studying abroad, they have created a potential period for Alibaba for European manufacturers and wholesalers, and at first they make themselves more significant. 
The idea to create a European virtual marketplace stemmed from their trading experience, which they began to gather when they were twelve years old. This is the first time that your parents, who have been actively involved in business in Vietnam, are being taken to business meetings. 
When you came to the Czech Republic in the 1990s, they were involved in the establishment of the Sapa market in Písnice, Prague, where they continued to run large warehouses. 
Most business meetings with traders and manufacturers take place in neighboring countries or directly in China. The problem was the language barrier, which logically occurred between the parents and their business partners during the meeting. 
That's why they first hired interpreters and then we started taking our boys to meetings, who gradually learned English at school. 
It was the boys education that was one of the main reasons why their parents spent most of their business with them, and it is one of the reasons why Sonny could study biomedicine in London, Lukáš business in California and Leo information technology in Prague.
In the middle of Sapa
Another complication was trade fairs. These were held only a few times a year, although they were the most common way to find new suppliers. 
"At most of these fairs, people traded in large physical brochures, exchanged business cards and made orders with pencil and paper. This is still happening today. Wouldn't it be great if there was a trade fair that was open twenty-four hours a day, 365 days a year? "Asks Lukáš Pham a rhetorical question. 
"Given that Europe is so fragmented, both culturally and linguistically, we see potential here where we can add real value to both manufacturers and customers," adds the co-founder and CEO of a wholesale market named after Nulisec in Latin. 
Nulli Secundus, which literally means "Second to None" or "top-level" in English. 
Nulisec was established in 2017 right in the middle of Sapa, in which approximately 700 shops, restaurants and other establishments are concentrated, which attract over 10,000 visitors a day. Even so, local businesses are often confused about how to use the Internet to reach customers or fill orders. After all, the official website of Sapa says a lot. 
This was the impetus for why the trio first created their own e-shops for several merchants, but they did not bring the expected result. The reaction was to connect them to a large platform that was already very similar to the online marketplace. Over time, it has proven to be suitable for the entire community and now has the ambition to gradually expand and strengthen other business communities around the world, starting with the region of Central and Eastern Europe
Nulisec rebuilt the wholesale ordering process from scratch to make your company excel at what you do. They specifically designed it for those who want to work with the emerging brands.
Nulisec isn't just another B2B Marketplace
Designed to help to discover emerging brands and stay ahead of consumer demand. Data sourcing using AI. Brand-focused. And comes with industry-specific features that make it more productive.
They help you to put your brand in front of buyers 
"The founders were really interested in working with us and they also needed capital. Because the project was at an early stage, we suggested to them development assistance and strategy when securing an angel investor. They did this in June 2020 in the form of Lighthouse Ventures.
We kept our word, became co-investors and joined the project. We are currently actively helping the project in strategy and growth, "describes the cooperation of Matěj Boruta from Leverage Technology. 
It is the expertise and experience of this Czech investment group that could be very useful to Nulisec in addition to financial capital, as it is one of the first investors in the Liftago project, and Václav Liška, who is at Leverage, has extensive experience at online marketplaces.
Nulisec wants to use the money raised to speed up its ordering system, which is focused on fast-moving goods and repeat orders. At the same time, it wants to focus on optimizing and digitizing other tools so that the entire process of placing orders and receiving them is as efficient as possible for both parties. 
This year, Nulisec trades goods worth approximately 40 million crowns through its platform with an average monthly growth rate of 15,5% . Next year, the company plans to quadruple the amount of goods sold with a total value of around 160 million crowns.