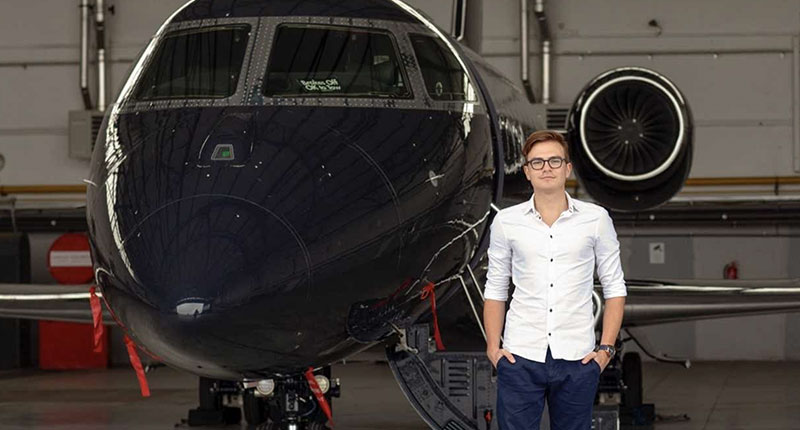 He has been interested in airplanes since childhood. Now the young Czech manages private flights
They use orbiter and satellite data to help manage private flights.
Strafos startup, which is part of the ESA BIC space incubator, and another company that we present in the iDNES.cz series Kosmické Česko. 
Startup Strafos was founded by Daniel Valeš at an early age. "I've always been technically oriented and it drew me to the planes. Already at school, I earned extra money by working at airports and I went from washing planes to working as a broker, "describes Valeš. 
After personal experience, he decided to do something that would help and benefit the aviation industry. "It bothered me that at a time when everything is full of different applications and modern technologies, there is a lot of things not innovate in private flights," explains Valeš.
Cause of covid, people who can afford flights have started to use private planes more because normal routes are not in operation or they are afraid for their health.
Daniel Valeš
founder of the startup Strafos
The focus of the startup changed over time. "It took us a while to clarify our priorities. However, we are currently focusing on revenue and cost management of private aircraft. This means that we are able to provide private aircraft providers with a detailed overview of the costs and benefits of each flight, "explains Valeš. 
Because Strafos used satellite data to track aircraft, it met cosmic overlap, which is one of the conditions for joining the ESA BIC. 
"It simply came to our notice then. It was a completely new experience for me to enter into such a project. The aim was to build an algorithm that would be able to compare the predicted and current flight costs using a satellite with an ADS-B receiver and the current position of the aircraft, "says Valeš. Within the incubator, he used business consulting and networking. 
The main goal of the company is to optimize the continuity of flights and the associated empty flights. "Just 30 minutes of flight hours cost the operator on a larger jet two thousand euros, and you can work well with that," says the founder of Strafos. 
Even this year, Valeš has ambitions to expand further into the European market. "So far, we only operate here, but for pilot operation we have a sufficient range of jets of various sizes," he says. 
Despite the fact that the aviation industry suffered greatly from the current situation during the coronavirus pandemic, paradoxically, nothing so tragic has come in the area of ​​private aviation.
"People who can afford flights, on the other hand, have started to use private planes more, because normal routes are not in operation or they are afraid. At the same time, the operators realized the importance of their revenue management, so they are trying to make flights more efficient, which plays into our hands, "concludes Valeš.

InnoCrystal s.r.o.
Inovační 122
252 41 Zlatníky-Hodkovice
Czech Republic

InnoCrystal s.r.o.
Inovační 122
252 41 Zlatníky-Hodkovice
Czech Republic